With technical expertise, innovative problem-solving, and the latest best practices, Neoteric conceived and built a website from scratch for a brand new Terra Foundation initiative. Nick and his team created a content portal that allowed our many partners to submit and manage their own event pages — an efficient time-saver for everyone! To our great benefit, as the site evolved through several stages, Neoteric applied their smart and strategic approach every time.
Context
Initiated by the Terra Foundation for American Art, Art Design Chicago was a citywide exploration of Chicago's role as a catalyst and incubator for innovations in art and design. The first large-scale exploration of the city's art and design history to date, Art Design Chicago was developed over the course of six years and unveiled to the public in 2018, involving more than 95 partner institutions, hundreds of public programs, as well as scholarly publications and a four-part documentary.
The Terra Foundation needed a digital platform that supported visitors, partner organizations, and staff, one which served as the primary means of communicating up-to-date information on hundreds of events across the year.
Goals
Expand public access to works of art and design that are rarely on view

Catalyze new research and advance scholarship

Grow with the initiative's phases, from announcement to programming and concluding archive

Support visitor discovery and participation across hundreds of public programs

Support the communications team with tools that reduce workload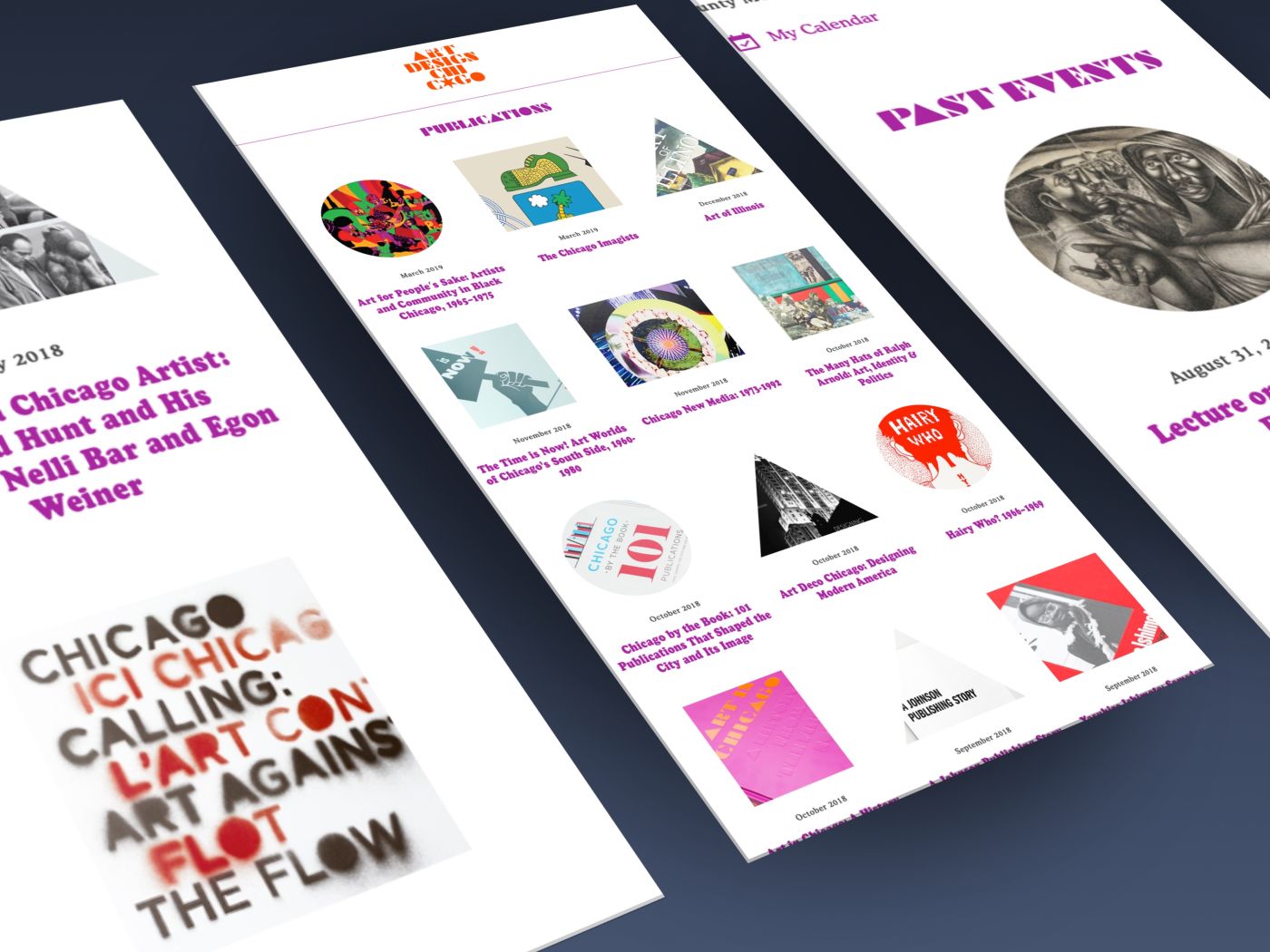 Our aim is for everyone in Chicago to be involved, to engage people in conversations about art. We believe that art has the power to distinguish cultures and unite them.
Work
Through initial discovery and stakeholder interviews, we realized the initiatives content model would change throughout the phases of the program: the project development would require flexible, modular components that fit together in different ways over time. We build a custom Ruby on Rails content management system to handle the hundreds of events, partner organizations, programs, publications, and digital initiatives. A partner content portal and editorial workflow enabled the communications team to handle hundreds of event details.
Outcomes
The initiative was a major success, with 2.5 million visitors and participants at exhibitions and programs throughout Chicagoland

Supported communications team with a partner content portal and editorial workflow that handled more than 300 public programs, including talks, tours, block parties and festivals, film screenings, hands-on workshops, and more

Supported visitor participation through geo-located event maps, topical and persona based filtering, event favoriting and agenda-making.
For the crowds who frequent the Art Institute of Chicago — where a major retrospective of Charles White opens in June — the Art Design Chicago brochure and website may direct them to related shows at off-the-beaten-track institutions in Pilsen or Evanston as well as the South Side. "By putting this platform together, we've been able to see some broad themes that have emerged across a swath of exhibitions," Ms. Glassman said. She hopes "that layering is going to spark new ways of thinking about different American artists and who's in the story of American art."



Beyond Frank Lloyd Wright: A Broader View of Art in Chicago
We can help you.

Our no-bull approach will move your project forward.