We are proud to welcome this extraordinary list of international exhibitors and look forward to a robust week of exhibition openings and events that have been aligned with the eighth edition of EXPO CHICAGO this September.
Tony Karman, President, Director
EXPO CHICAGO
Situation
EXPO CHICAGO, the International Exposition of Contemporary & Modern Art, has establish the city of Chicago as a preeminent art fair destination. Dedicated to rigorous and challenging programming, EXPO CHICAGO initates strategic international partnerships, built alongside strong institutional relationships with major local museums and organizations to open parallel exhibitions and events.
Goals
Develop a flexible, easy to manage CMS for marketing and communications
Migrate and grow a custom CRM for exhibitor applications and portals
Develop a custom CRM-driven event registration system
Relaunch during a critical, can't fail year with unmovable timelines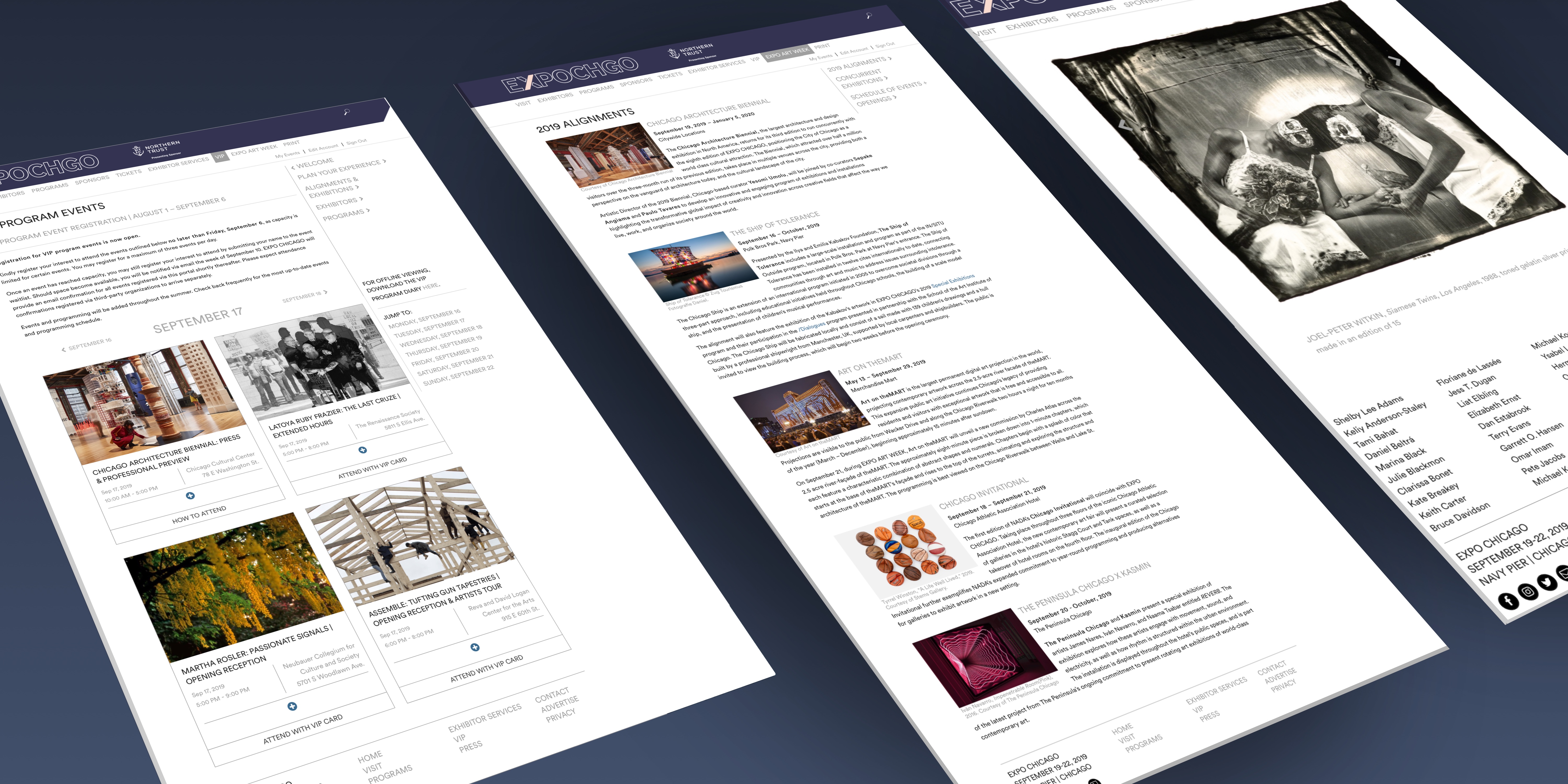 Work
We planned a multi-year digital strategy and completed critical goals in year one: we built a new digital platform for marketing and communications, exhibitor operations, and customer services. We developed the CMS, CRM, event registration system, and multiple portals, all during a critical, can't fail year with an unmovable launch timeline.
In following years, we built additional features for EXPO CHICAGO business units: registration systems, exhibitor applications, and event management.
Outcomes
The CMS enables staff to manage hundreds of pages, rich media, content archives, and complex navigation systems easily
The events management system supports thousands of RSVPs with rosters, customer personalized agendas, and multiple registration mechanisms
Roles-based user accounts create portals for document management, timelines, and public-facing exhibitor profiles
The rebuilt CRM provides error-free handling of contacts and relationship history, with customized imports and exports for bar code scanning data maintenance
I am extremely proud of the breadth of our international programming and curatorial initiatives this year, alongside our global collector and museum engagement.
Tony Karman, President, Director
EXPO CHICAGO
How might we help your digital initiatives this year?