Hiring Nick and his team at Neoteric Design was one of the best business decisions I've made. The energy and interest they showed was very motivational. The team at Neoteric became friends through the process in addition to a valued business partner. I trust them completely and strongly recommend them.
Context
The Interlex Group is an association of leading law firms that cooperate to provide a complete range of international legal and business services to clients. Since its founding in 1973, it has grown and prospered and continues to expand its global legal network.
As part of a multiyear digital transformation, Interlex needed its website to better serve both members and staff — transitioning from brochureware to the primary database for the organization.
Goals
Support member event registrations, online payments, and confidential program updates

Handle complex member records with multiple regions, cities, offices, and contacts

Support both online and print publications

Refresh the historic brand to better engage a mobile generation of members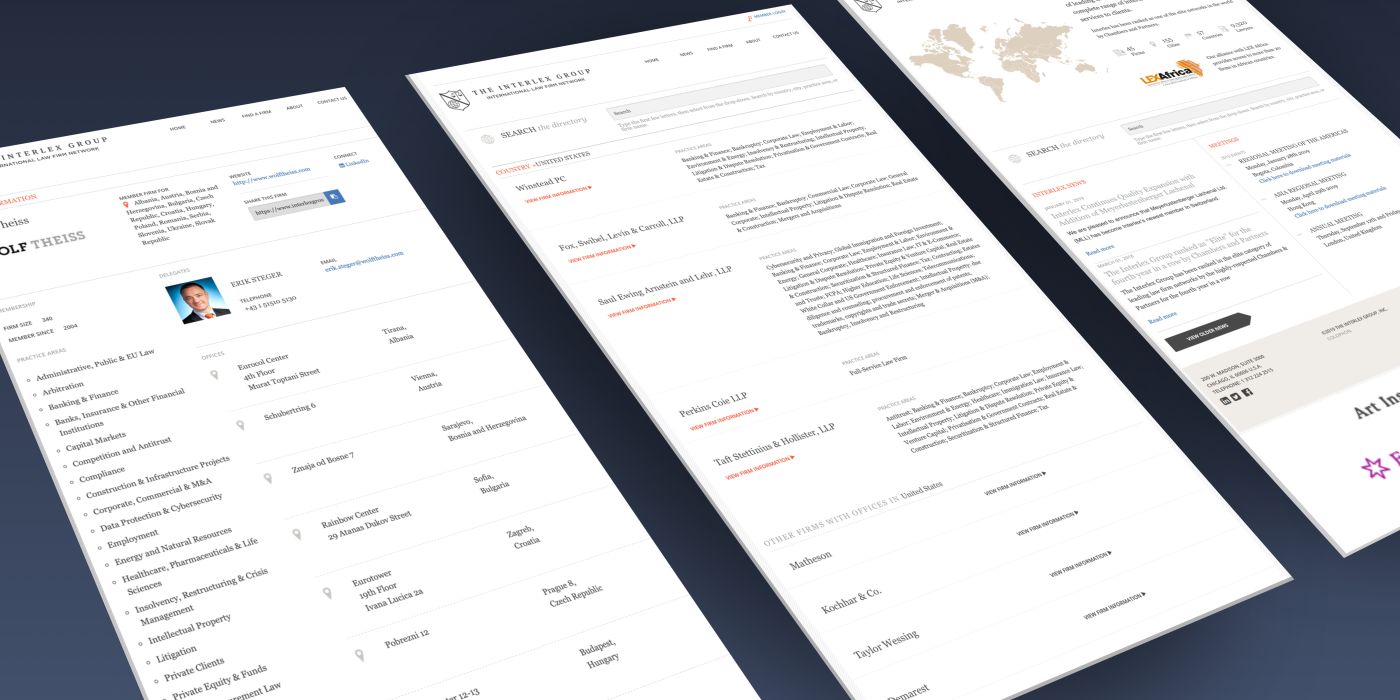 Discoveries
We interviewed stakeholders and member firms to learn what they valued most, and how they used their member network. We learned that members use the printed directory regularly, yet need a mobile-ready version for on-the-go use; awards and recognitions are important for law firm marketing; and that meetings and events are important opportunities for networking.
Outcomes
Replaced the laborious cut-and-paste print production workflow with an easy and accurate website directory export

Enhanced directory listings with awards, news articles, and client-sharable views

Developed a members portal for networking followups with automated attendee rosters
The international directory handles law firms with multiple offices, contacts, and delegates, across geographic regions, countries, cities, and practice areas — all easily searchable by keyword.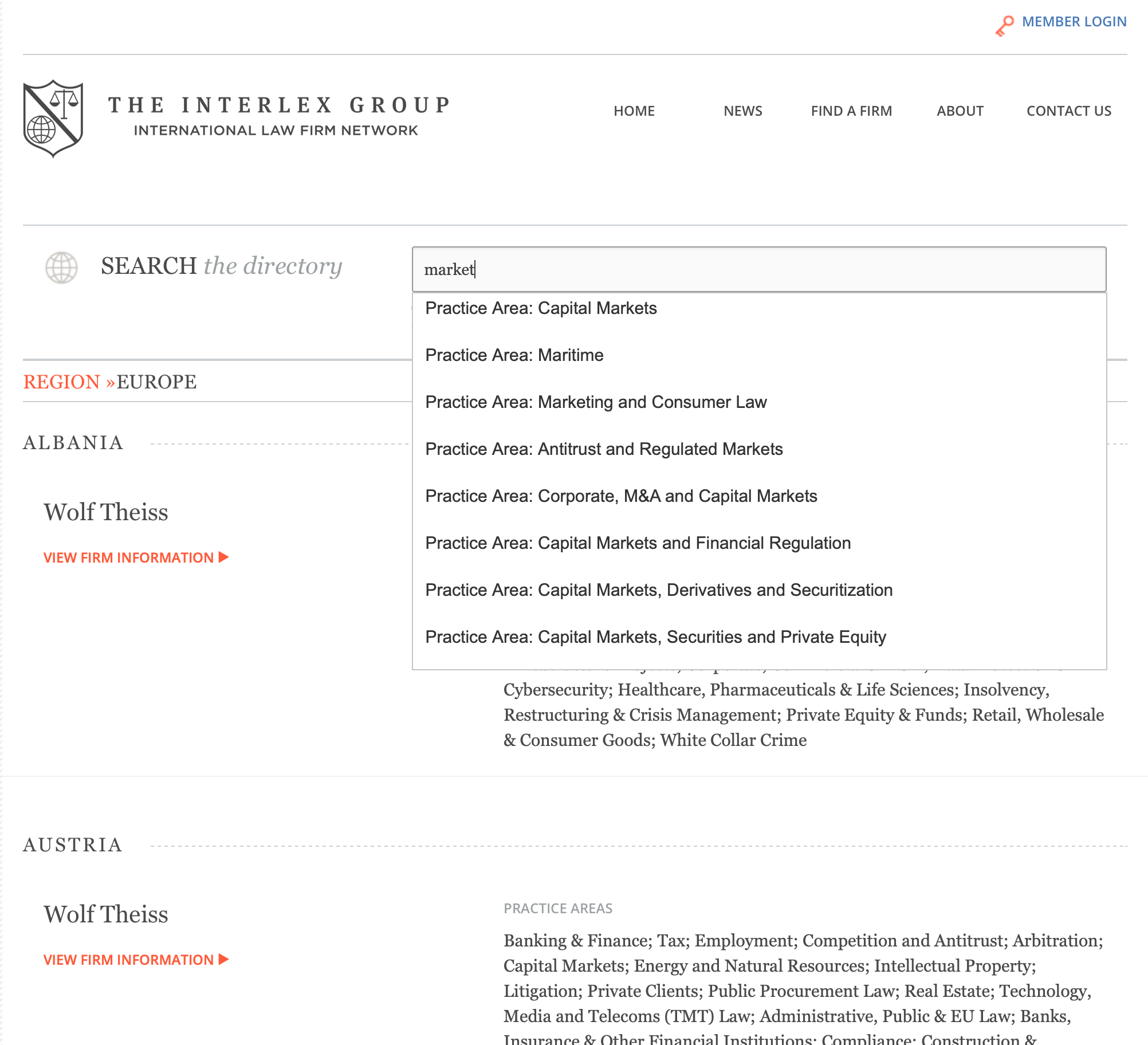 We refreshed the brand mark, modernized the typography, removed dated, hard-to-work-with graphic treatments, created an updated color system, and developed an interactive, international map.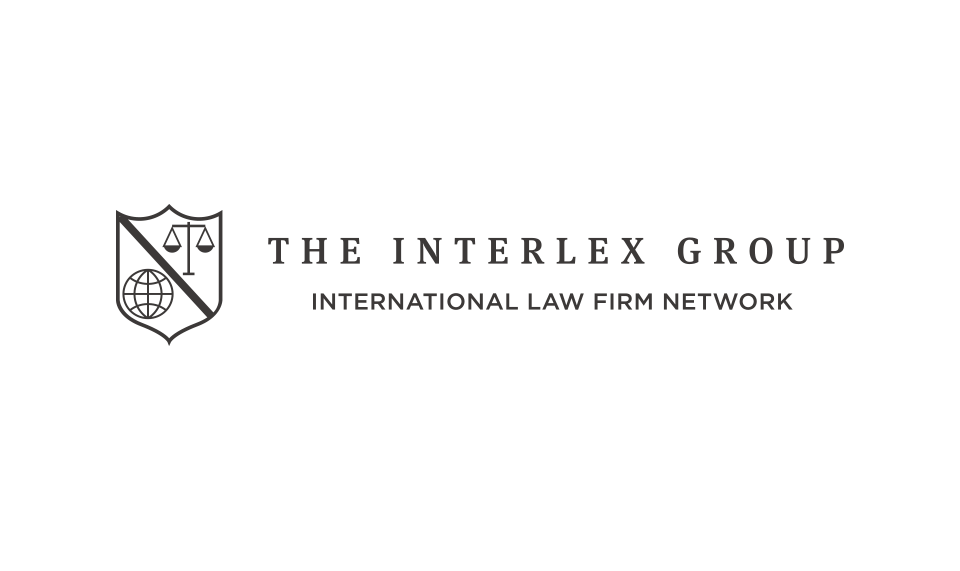 We needed a user-friendly members-only portal that simplifies our day-to-day management. Now, our members can RSVP to gatherings, register for official events, pay dues online, get a history of their membership and registrations, and access marketing tools and members-only information. Neoteric created the online resource we have been striving to build for years.
We can help you.

Our no-bull approach will move your project forward.