I've gone through two complex design/build projects with Nick and they both launched without a hitch! He offers smart solutions to solve tricky problems. I've heard many launching horror stories, but with Nick he made it happen smoothly and it was actually fun.
Context
The two sites, They Draw and Cook and They Draw and Travel, were founded in 2010 by Nate Padavick and Salli S. Swindell, the brother and sister design and illustration team known as Studio SSS. Initially built on Blogger, the sites rapidly grew on the founding principle of promoting the careers of freelance illustrators around the world.
Nate and Salli needed to transition from a blog to a platform that could handle tens of thousands of user accounts, hundreds of thousands of images, publishing workflows, and a growing community of illustrators, professional and passionate.
Goals
Inspire and support freelance illustrators, art directors, and passionate doodlers, drawers, and students

Build a platform to manage artists, visitors, high res illustrations, submission workflow, and ongoing product development

Express the brands' fun and inspiring voice while generating real value for its members

Design content flexibility from the start, for future contests, collections, or ideas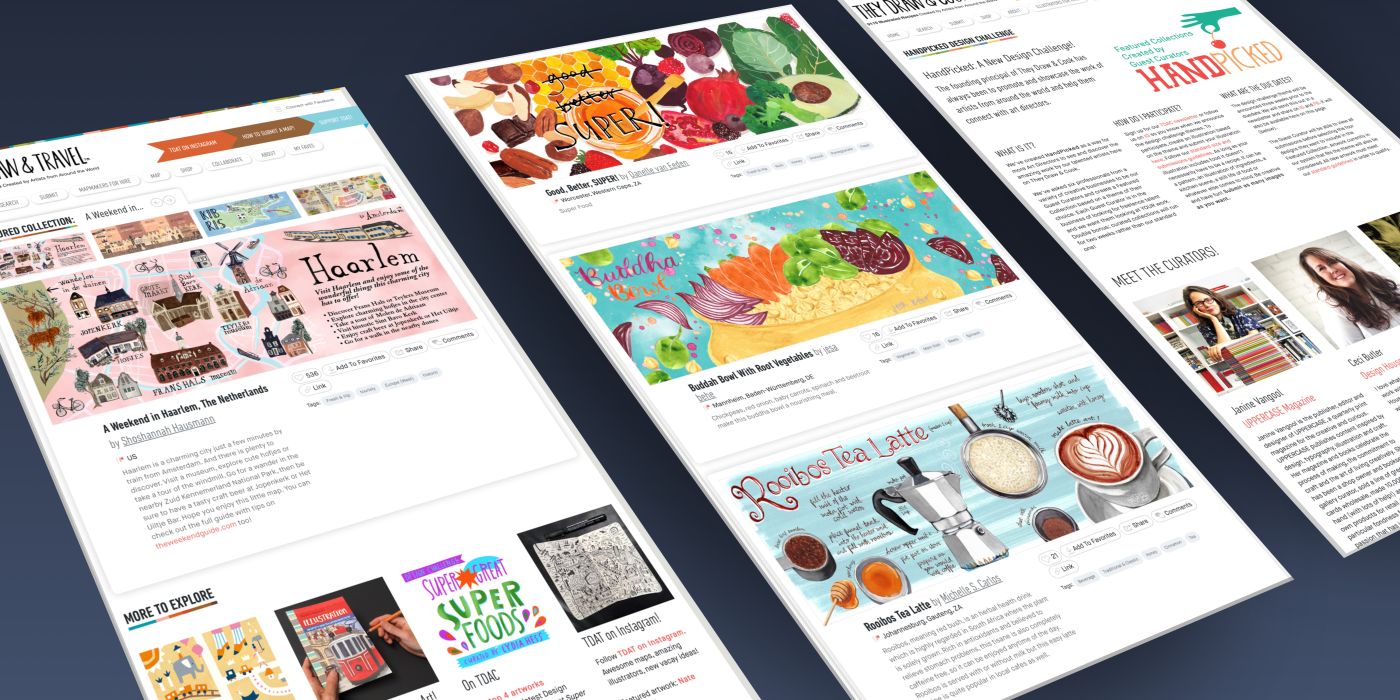 Work
We built a single web app in Ruby on Rails to support the two brands. On-the-fly asset handling generates web- and mobile-ready images and archives high-resolution assets for print publications. Extensive tagging and searching, unique for each brand, supports discovery and exploration, while friendly user feedback to artists inspires and supports the growing community.
Flexible editorial publishing tools support ongoing product development and testing: design challenges, brand-sponsored challenges, illustrators for hire, and more.
Outcomes
The platform handles traffic spikes of 50,000 visitors a day during contest periods and hundreds of thousands of hires images

Multiple cloud-based Rails containers and workers at Heroku

A Redis service for caching view fragments, geocoding, and database results

An ElasticSearch service for search

A SendGrid service for transactional emails

Continuous Integration / Continuous Delivery pipelines enable automated code builds, tests, security audits, and deployments
From day one, Nick led a streamlined, organized, goals-and-results-driven process. His team knocked the redesign out of the park, transforming it into a clean, scalable, intuitive site. Nick and his team are fun to work with, creative, and they understand that each project has a unique set of needs. I definitely recommend Nick and Neoteric.
We can help you.

Our no-bull approach will move your project forward.