If you look at the number of animals that need help or assistance that end up in shelters, there is no other disease, there is no other thing that affects more animals than animal shelters or animal care.
Context
There are a broad range of animal shelters, rescues, and other organizations dedicated to animal welfare. Organizational decisions, practices, and operations have enormous health implications for the animals in care. Virtual Consultant is a collaboration between the University of California Davis Koret Shelter Medicine Program and the University of Wisconsin School of Veterinary Medicine Shelter Medicine Program.
Virtual Consultant is designed to help improve shelter animal health and increase life saving by providing practical, targeted information regarding critical aspects of animal care.
Goals
Help animal shelters improve their standard of care

Coach with positive feedback and suggested next steps, educate with targeted, deep links to the scientific literature

Benchmark against best practices, with practical reports that show organizational improvements over time

Private, confidential, self-paced, and easy-to-use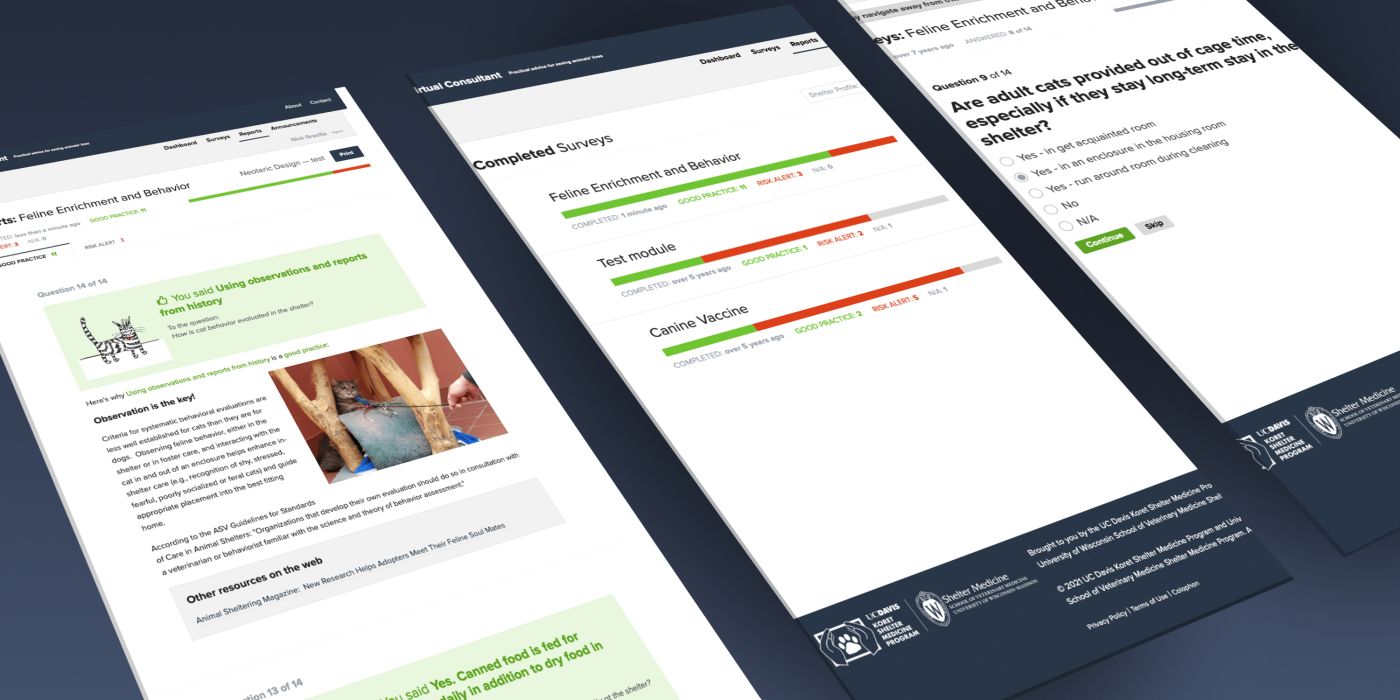 Work
Research lead experience design: interviews with managers, consultants, and stakeholders inspired self-saving, start-stop anytime, easy to use interfaces

Custom built LMS: modules, units, and tracks provide positive reinforcement, guidance towards improved practices, and extensive resources for further study

Flexible reporting and benchmarking: visual reports on successes and areas to improve; benchmarking over time; print-ready reports for documentation
Outcomes
Extensively used: thousands of organizations have and continue to use Virtual Consultant to improve their standards of care

Robust and reliable: web application has been in continuous use since 2013, with minimal ongoing support or maintenance

Extensive: 50 modules across a dozen tracks and units, with new modules added over time through content partnerships
We didn't expect every shelter to go from where they are to getting all of this achieved — but what we want is for every shelter to go from where they are to a little bit better. If they are always doing that then everything is getting better and animals' lives are being saved.
We can help you.

Our no-bull approach will move your project forward.